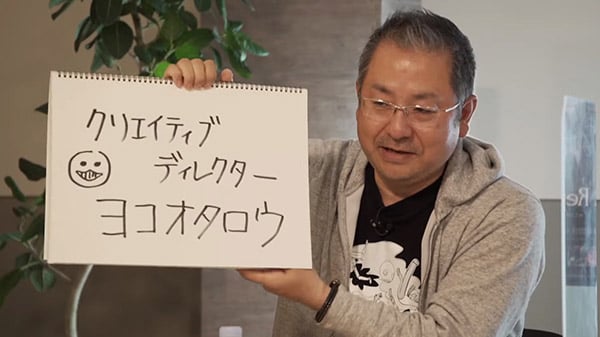 Yoko Taro is working on a brand-new title with Square Enix as creative director, company producer Yosuke Saito said during the NieR Replicant ver.1.22474487139… first official live stream.
While specific details were not announced, it will be a somewhat indie-esque digital-only title. However, a special physical edition might also be released.
According to Yoko Taro, the game is "difficult to explain"—"a somewhat unusual game, I've created something mysterious that I have no idea how to explain or sell." It is an "off-beat game" that Taro personally enjoys and wants people to play, but has no idea how to get them to do so. According to Saito, it feels both "nostalgic and new." Staff at the company have said "it'll definitely sell well!"
More information will be announced as it is made available (with monthly updates being a possibility). It was said that the next update could happen within the next few days at the earliest.
Thanks, Games Talk.
Comment Policy
Comments are welcome and encouraged on Gematsu. However, we ask that you follow a simple set of guidelines:
Read the full article before commenting.
Stay on topic.
No drive-by comments, including trolling, baiting, or shit-posting.
Know when not to comment. If you do not care about a topic, you do not need to comment.
No offensive comments. This includes abusive, threatening, pornographic, misleading, or libelous content / language, as well as general harassment and individual attacks.
No port-begging.
No console wars.
Use spoiler tags when posting spoiler or NSFW (non-nude-only) content. For example: <spoiler>Woe is Leomon.</spoiler> State the subject of the content outside of the spoiler tags.
Be respectful towards other commenters. You do not have to agree with each other, but debate politely. If you find that a commenter is not following this simple etiquette, do not carry on the conversation—simply report it.
Gematsu reserves the right to edit or delete any comments without notice. This comment policy is subject to change at any time.