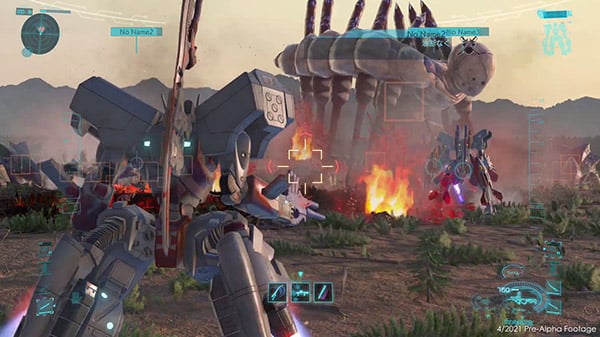 aNCHOR has released a new gameplay video and the first producer letter for Muv-Luv action game Project Mikhail.
The producer letter touches on the following topics:
01. Will the game be available on platforms other than Switch and PC (Steam)? – At a later date, yes. After launch, depending on the state of the game, aNCHOR will determine wither to prioritize updates or ports to additional platforms, so the timing for release on said platforms is currently undecided.
02. Please allow us to turn the damage display ON or OFF – You can do this. WHen it is ON, the presentation is also adjusted.
03. Please add even more BETA (Beings of Extra Terrestrial) – Adjustments are underway to add more.
04. Regarding "Single-Player" mode – In this mode, you can enjoy the story and creating your very own Tactical Surface Fighter.
05. Regarding "Battle" gameplay – Playing with gameplay skills, intellectual gratification, and tactics.
Project Mikhail is due out for Switch and PC in August.
Watch the videos below.
Comment Policy
Comments are welcome and encouraged on Gematsu. However, we ask that you follow a simple set of guidelines:
Read the full article before commenting.
Stay on topic.
No drive-by comments, including trolling, baiting, or shit-posting.
Know when not to comment. If you do not care about a topic, you do not need to comment.
No offensive comments. This includes abusive, threatening, pornographic, misleading, or libelous content / language, as well as general harassment and individual attacks.
No port-begging.
No console wars.
Use spoiler tags when posting spoiler or NSFW (non-nude-only) content. For example: <spoiler>Woe is Leomon.</spoiler> State the subject of the content outside of the spoiler tags.
Be respectful towards other commenters. You do not have to agree with each other, but debate politely. If you find that a commenter is not following this simple etiquette, do not carry on the conversation—simply report it.
Gematsu reserves the right to edit or delete any comments without notice. This comment policy is subject to change at any time.